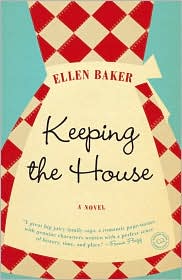 Just started reading this last night, a few pages in, there is a description of a "Happy Home" from a husbands perspective. It's a smiling wife in an apron and lovely dress with a colorful, balanced hot meal ready, and it hints that you should never serve the same meal more than 1 time per month and there should be 3-4 new recipe's per month.
Yikes I have a lot of work.. Got the aprons but more likely jeans than any dress.. I think if I made "colorful" dinners poor Ryan would starve! But I do like the idea of a few new recipes a month and maybe a little more variety.. Think I will try it in February! Wonder how many ways I can make meat and potatoes?
So far I like the book, easy enough to read and pretty interesting already.. if you are into the whole Vintage or "housewife" thing!